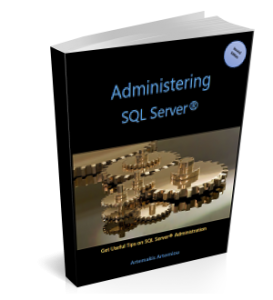 Version
Download

23

File Size

1.78 MB

File Count

1

Create Date

December 19, 2018

Last Updated

January 6, 2020
Administering SQL Server (eBook) - Table of Contents
Get the table of contents of Artemakis Artemiou's eBook titled "Administering SQL Server".
If you find the contents of the eBook interesting, you can buy the eBook as a digital download, from our trusted reseller FastSpring.

Artemakis Artemiou is a Senior SQL Server Architect, Author, a 9 Times Microsoft Data Platform MVP (2009-2018) and a Udemy Instructor. He has over 15 years of experience in the IT industry in various roles. Artemakis is the founder of SQLNetHub and TechHowTos.com. Artemakis is the creator of the well-known software tools Snippets Generator and DBA Security Advisor. Also, he is the author of many eBooks on SQL Server. Artemakis currently serves as the President of the Cyprus .NET User Group (CDNUG) and the International .NET Association Country Leader for Cyprus (INETA). Moreover, Artemakis teaches on Udemy, you can check his courses here.