SQL Server programmability objects such as stored procedures, functions, assemblies, etc. are widely used, especially in cases of a major database design where you want to have a well-structured database with code reuse and performance.
The need to know where are Programmability Objects Stored in SQL Server
Even though many of us use these programmability features, we do not often think of where these objects are stored.
However, it is very useful to know where the above objects are stored as we can access them via T-SQL and retrieve useful information (i.e. in the case of an upgrade where we want to check for deprecated features in the T-SQL definition of those objects) or even apply corrections.
Theory and SQL Server Catalog Views
Taken the above into consideration, there are two catalog views that we need to study prior to see the T-SQL statements that can be used for accessing the programmability objects.
The first catalog is "sys.objects". This catalog view provides information about user-defined, schema-scoped objects created within a database such as: object name, id, type, creation/modification date, etc.
From MS Docs we can see that in SQL Server Database Engine there are the following object types available:
AF = Aggregate function (CLR)
C = CHECK constraint
D = DEFAULT (constraint or stand-alone)
F = FOREIGN KEY constraint
FN = SQL scalar function
FS = Assembly (CLR) scalar-function
FT = Assembly (CLR) table-valued function
IF = SQL inline table-valued function
IT = Internal table
P = SQL Stored Procedure
PC = Assembly (CLR) stored-procedure
PG = Plan guide
PK = PRIMARY KEY constraint
R = Rule (old-style, stand-alone)
RF = Replication-filter-procedure
S = System base table
SN = Synonym
SO = Sequence object
SQ = Service queue
TA = Assembly (CLR) DML trigger
TF = SQL table-valued-function
TR = SQL DML trigger
TT = Table type
U = Table (user-defined)
UQ = UNIQUE constraint
V = View
X = Extended stored procedure
---
Learn more tips like this! Check our Online Course!

Check our online course titled "Essential SQL Server Development Tips for SQL Developers" (special limited-time discount included in link).

Sharpen your SQL Server database programming skills via a large set of tips on T-SQL and database development techniques. The course, among other, features over than 30 live demonstrations!
---
Examples
The screenshot below displays some of the objects of the "
AdventureWorks2012
" sample database: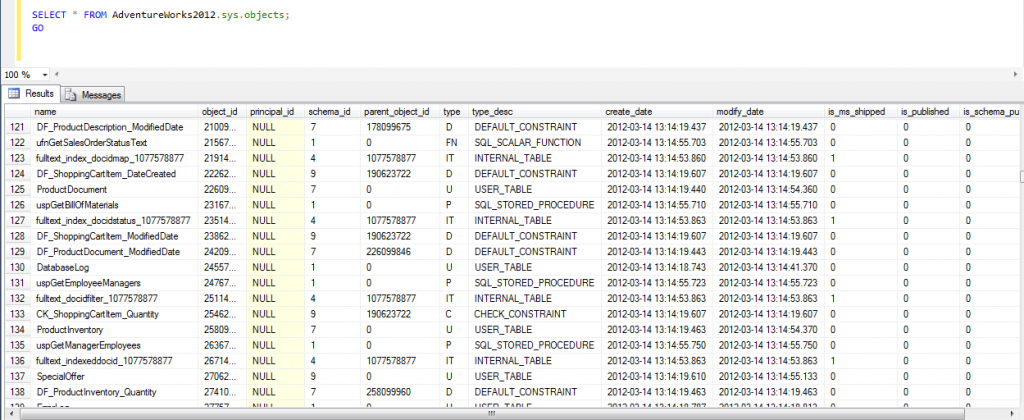 The second catalog is "
sys.sql_modules
". This catalog view provides information about database objects that are SQL language-defined modules. The most important column in this catalog is "
definition
" which is of the data type nvarchar(max). The "definition" column contains the SQL text that defines the module. In cases where there is a NULL value it means that it is encrypted.
T-SQL Script Examples
Now let's run some queries by joining the above two system catalogs. For example let's find the T-SQL definition for all stored procedures in the AventureWorks2012 database:
USE AdventureWorks2012;
GO

SELECT o.name as SPName, m.[Definition],o.create_date as DateCreated, o.type_desc as TypeDescription
FROM sys.objects o, sys.sql_modules m
WHERE o.[object_id]=m.[object_id]
AND o.[type]='P';
GO
And this is what we get:
Now let's find all the SQL scalar functions for the same database:
USE AdventureWorks2012;
GO
SELECT o.name as SPName, m.[Definition],o.create_date as DateCreated, o.type_desc as TypeDescription
FROM sys.objects o, sys.sql_modules m
WHERE o.[object_id]=m.[object_id]
AND o.[type]='FN';
GO
Let's see the result:
You can find even more information on different database objects by joining the above catalog views with other such as sys.parameters (finding the parameters of stored procedures), sys.types (finding information about system- and user-defined data types), etc. By the time all this information is available the only limit is your imagination!
Featured Online Courses:
Check our Related SQL Server Development Articles:
Subscribe to our newsletter and stay up to date!

Check out our latest software releases!

Check our eBooks!
Rate this article:





(1 votes, average: 5.00 out of 5)


Loading...
Reference: SQLNetHub (https://www.sqlnethub.com)
© SQLNetHub
Artemakis Artemiou is a Senior SQL Server Architect, Author, and a 9 Times Microsoft Data Platform MVP (2009-2018). He has over 15 years of experience in the IT industry in various roles. Artemakis is the founder of SQLNetHub and TechHowTos.com. Artemakis is the creator of the well-known software tools Snippets Generator and DBA Security Advisor. Also, he is the author of many eBooks on SQL Server. Artemakis currently serves as the President of the Cyprus .NET User Group (CDNUG) and the International .NET Association Country Leader for Cyprus (INETA).