If you are looking for a T-SQL tip, on how to create a simple linked server between SQL Server instances, then the below tip might come in handy.
The below T-SQL code does just that:
--
--Note: The Entire Operation Takes Place on the Local Instance
--

USE [master]
GO

--Create the linked server object
EXEC master.dbo.sp_addlinkedserver 
@server = N'[LinkedServerName]', 
@srvproduct=N'', 
@provider=N'SQLNCLI', 
@datasrc=N'[DestSQLInstanceName]'

 --Set up the user mapping between local and remote instances
EXEC master.dbo.sp_addlinkedsrvlogin 
@rmtsrvname=N'[LinkedServerName]',
@useself=N'False',@locallogin=N'[LocalLogin_SQL_or_Windows]',
@rmtuser=N'[Remote_SQL_Login_Name]',
@rmtpassword='[Remote_SQL_Login_Password]'
GO


--Example of querying a remote table
select * from [LinkedServerName].[Database_Name].[Schema_Name].[Table_Name];

Learn More:
Read Also:
Featured Database Security and Administration Tool: DBA Security Advisor
DBA Security Advisor: Secure your SQL Server instances by scanning multiple instances against a rich set of security checks, and by getting recommendations and remediation steps.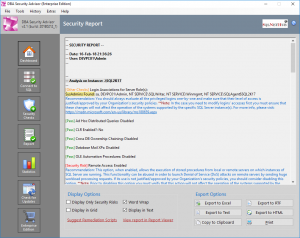 Did you find this article useful and interesting? Feel free to leave your comment!

If you enjoy my SQL Server administration tips and articles, I have something special just for you. It is one of my eBooks and it is called "Administering SQL Server". Check it out!

Subscribe to our newsletter and stay up to date with our latest articles on SQL Server and related technologies!

Check out our latest software releases! All our software tools have 30-day Trial Versions which are free to download.
Rate this article:





(No Ratings Yet)


Loading...
Reference: SQLNetHub.com (https://www.sqlnethub.com)
© SQLNetHub
Artemakis Artemiou is a Senior SQL Server Architect, Author, a 9 Times Microsoft Data Platform MVP (2009-2018) and a Udemy Instructor. He has over 15 years of experience in the IT industry in various roles. Artemakis is the founder of SQLNetHub and TechHowTos.com. Artemakis is the creator of the well-known software tools Snippets Generator and DBA Security Advisor. Also, he is the author of many eBooks on SQL Server. Artemakis currently serves as the President of the Cyprus .NET User Group (CDNUG) and the International .NET Association Country Leader for Cyprus (INETA). Moreover, Artemakis teaches on Udemy, you can check his courses here.